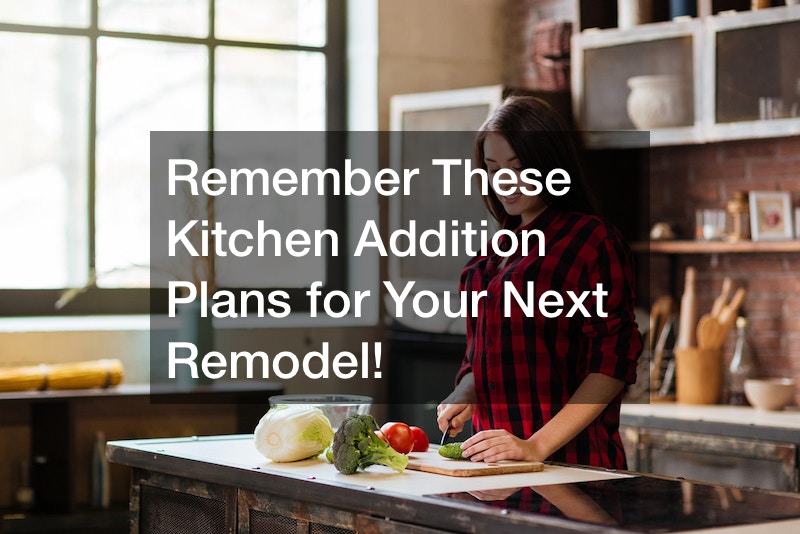 Remember These Kitchen Addition Plans for Your Next Remodel!
The kitchen is one of the most popular home improvement projects; according to a 2023 U.S Houzz & Home Study, 28% of homeowners renovated their kitchen in 2022. But while kitchen remodels are popular, they are one of the most complicated projects. Therefore, it helps to have a good plan, especially when looking to execute a project with a large scope, for example, a kitchen addition. Fortunately, with a few kitchen addition plans, like the ones below, you can guarantee that your next remodel will run smoothly and be successful.
Supplies
Procuring quality supplies is one of the most important kitchen addition plans to consider for your next remodel. Good supplies will guarantee quality home improvement results that will last a long time. On top of that, they will lead to fewer repairs and maintenance over time, thus ensuring that you get the most out of your kitchen addition project. Lastly, using quality supplies can help make your kitchen more functional and attractive and boost your home's value.
The type of kitchen supplies you'll need to procure for your addition project will depend on your renovation plans and ideas. For example, you might need cabinets, countertops, plumbing fixtures, backsplashes, and lighting fixtures. Others include flooring materials like vinyl, tile, hardwood, natural stone, laminate, and others if you plan on updating your kitchen floor. Lastly, you might need new and modern kitchen appliances like cooktops, ovens, refrigerators, range hoods, sinks, and others to update your old and existing ones.
Of course, when choosing your kitchen addition supplies, cost is one of the major issues you'll need to deal with. After all, according to a report by Associated Builders and Contractors, the cost of construction materials has increased by 4.9% in the last year and by 37% since 2020. Fortunately, there are ways to keep the cost of your kitchen remodel supplies low without compromising quality. For example, you can scout for deals, shop at bargain stores, get packaged deals, purchase second-hand materials, or leverage your remodeling contractors' connection for wholesale prices and discounts.
Professionals
Professionals are another vital element when making kitchen addition plans for your remodel. Their expertise and experience can help your project run more smoothly and prevent costly mistakes common during DIY home improvement. On top of that, contractors have access to quality materials, tools, and other resources, which can be critical to the success of your kitchen project. Therefore, hiring professionals can help to save you money, time, and a lot of hassles.
Depending on the scope of your project, you may need to hire several professionals for your kitchen addition project. For example, you can hire a general contractor to handle various tasks like demolitions, new constructions, repairs, and restoration. Other professionals include a flooring contractor, cabinet installer, appliance expert, plumber, electrician, interior painter, solid surface fabricator (for countertops), etc.
You might also need to hire other professionals besides kitchen remodeling contractors. For example, you might need a home inspection professional, especially when undertaking a large project requiring building permits. You can even consider undertaking another project alongside your kitchen remodel, for example, a bathroom renovation, thus requiring you to hire a reliable bathroom contractor.
Assistance
A kitchen addition project can be daunting as it involves many moving parts. And while working with professionals can help to ensure a smooth and hassle-free process, having additional assistance can still be very beneficial. Therefore, when making your kitchen addition plans, you should look for more resources you can use during your project. These resources guarantee a smoother experience and more quality results that will significantly enhance the look and feel of your kitchen.
One of the top ways that home improvement resources can help is by providing you with fantastic ideas for your kitchen addition project. For example, you can visit home remodeling websites like Houzz, Angi, HomeAdvisor, Porch.com, The Spruce, and others, where you can find many kitchen remodeling ideas. Other resources where you can find assistance include home improvement TV channels like This Old House, YouTube remodeling channels, Pinterest boards, social media pages, etc.
Apart from ideas, you can also find more resources to help you with other aspects of your kitchen addition project. For example, you can visit home improvement stores near you to get more insights and advice on the type of materials to use. You can also check out your local homeowner association websites to get all the dos and don'ts you must follow during your kitchen remodel.
Insurance
Insurance is another vital aspect to consider when making kitchen addition plans for your home improvement. After all, a kitchen remodel is a large project and thus can expose you to additional risks like damage from construction work, theft of building materials, etc. On top of that, changes made during your renovation project can have a significant impact on your property's insurance policy.
When planning a kitchen addition project, you should never attempt DIY work as this can easily void your home insurance policy. On top of that, you should conduct due diligence when hiring contractors to ensure that they are properly insured to undertake the project. Some of the top types of insurance to check for include general liability coverage and workers' compensation (if the contractor is using subcontractors).
When planning your kitchen addition project, you should also inform your insurance company of your plans, as any changes you make can affect your home's value, leaving you underinsured. Unfortunately, this is something that many homeowners forget to do; according to a 2021 Hannover report, 40% of homeowners who renovated their homes failed to inform their insurance company or agent. So, to ensure you're adequately covered, you must update your homeowners insurance to reflect the true value of your property.
Plumbing
Plumbing is one of the most important elements you need to consider when making a kitchen addition. A plumbing upgrade can significantly improve the functionality of your kitchen. On top of that, some of the activities to be undertaken during the renovation, such as changing the layout, might require you to update your plumbing. Therefore, you must devise a good strategy for handling plumbing issues when planning your kitchen remodeling project.
You can consider several plumbing ideas to improve your kitchen. For example, you can replace your old sink or even install a second one on your kitchen island countertop. You can also upgrade the faucets, giving your kitchen a new and more appealing look. In addition, you can improve the comfort and convenience of your kitchen with plumbing ideas like under-sink water heaters or smart faucets.
Lastly, when making your kitchen additional plans, consider making a few changes to your plumbing system. For example, you can replace your old and outdated water pipes, offering you several benefits, like fewer plumbing repairs, increased water pressure, and cleaner water. In addition, you can update your drains and septic system, for example, by hiring a drain cleaner, installing a new and more efficient garbage disposal unit, and cleaning (or replacing) your septic tank.
Emergency Services
Regardless of how carefully you've planned, several things can go wrong during your kitchen remodeling, throwing your project into a tailspin. Fortunately, when this happens, several emergency services can help you to get things under control and prevent expensive damage to your home. Therefore, it's important to identify emergency services and professionals you might need to hire when making your kitchen addition plans.
You can find several emergency services for your kitchen remodel, depending on your problem. For example, you can hire a 24 hour plumber and water damage restoration company in case of an issue like a burst pipe. In addition, you might need emergency electrical services in case of electrical failure or to provide a standby generator for your home if your electrical system is affected during the renovation.
Emergency services can also come in handy when dealing with dangerous materials or situations during your kitchen addition project. For example, you can hire an asbestos, lead, and mold abatement company if you encounter toxic materials in your home. You can also hire an emergency foundation repair contractor after uncovering foundation problems. Lastly, you may also need emergency repair in case of any mistakes that affect the structural integrity of your home, for example, a problem during demolition.
Emergency Plumbing
You can encounter several plumbing problems during your kitchen remodeling project. Unfortunately, some of them can be very costly. For example, according to Angi, water damage restoration, which can occur after a flooding problem in your home, can cost between $1,308 and $5,933. Therefore, when making your kitchen additional plans, plumbing services should be at the top of emergency services you should plan for in advance.
There are several scenarios where you might need 24 hour emergency plumbing services during your kitchen remodel. The top one is when dealing with the risk of flooding or water damage. This can happen due to leaks after improper installation of new plumbing fixtures. In addition, some renovation tasks, for example, tearing up walls and floors, can inadvertently lead to burst pipes, which can cause serious flooding and water damage.
Emergency plumbing services can also come in handy in several other situations during your kitchen addition plans project. For example, you might need to hire a plumber on short notice if your kitchen drains are clogged or in case of a septic tank backup problem. Other scenarios include frozen pipes, clogged water pipes, low water pressure, faulty plumbing appliances, etc. In all these situations, having a reliable emergency plumbing contractor/company you can call can save you many hassles and prevent lengthy delays for your remodeling project.
Professional Design
According to a 2022 U.S. Houzz Kitchen Trends Study, kitchen and interior designers are two of the most popular professionals that homeowners hire during remodeling projects. There are several reasons why these professionals are popular, from the ease at which mistakes can occur with DIY design to the high cost of kitchen remodeling projects. Therefore, preparing for your project, a professional designer is another top resource that you should add to your kitchen addition plans.
One of the top benefits of kitchen design services is that the professionals you hire will take your dreams and ideas and transform them into a workable and realistic design. In addition, you can leverage their expertise and experience to come up with cool and modern designs for your home. For example, when working with an architect design firm, you can learn about the latest trends in layouts, materials, colors, fixtures, and other design aspects, thus guaranteeing you a highly functional and appealing kitchen space.
Hiring professional design services is also a great way to save time and money. A reliable designer will only include workable features when creating your kitchen design, thus avoiding delays. In addition, a kitchen designer can spot and advise you against unnecessary design features that can lead to a bloated budget or other problems that can affect your remodeling project completion.
HVAC
HVAC services are another resource to consider when planning a kitchen addition. That's because an HVAC system can help to create a pleasant and comfortable atmosphere in your kitchen. Consequently, this can increase the appeal and convenience of your kitchen space and the rest of your home.
Removing foul odors is one of the top reasons to hire HVAC services for your kitchen remodel. After all, when cooking, steam, smoke, cooking odors, and other airborne particles are released into the air, creating unpleasant smells and a stuffy atmosphere in your kitchen. Fortunately, your HVAC system can remove these pollutants, leaving your kitchen smelling nice and fresh.
HVAC solutions can also help to maintain a comfortable temperature in your kitchen space. For example, air conditioning can help eliminate excess heat produced when cooking. In addition, cooling your kitchen can also help to keep delicate produce like fruits and vegetables fresh for a longer period.
Lastly, including HVAC solutions in your kitchen addition plans can help to deal with moisture problems. For example, steam released during cooking, the sink, and washing machines can release moisture into your kitchen, leading to mold, water damage, and other problems. However, a functional HVAC unit can eliminate excess dampness, keeping your kitchen clean, fresh, and smelling nice.
A kitchen remodel is an excellent project that can offer many benefits, from improved functionality to enhanced appearance, increased property value, and more. However, planning such a project is not easy, especially when you factor in the costs and the amount of work involved. However, with the above kitchen addition plans, you can enjoy an easier time with your renovation project.