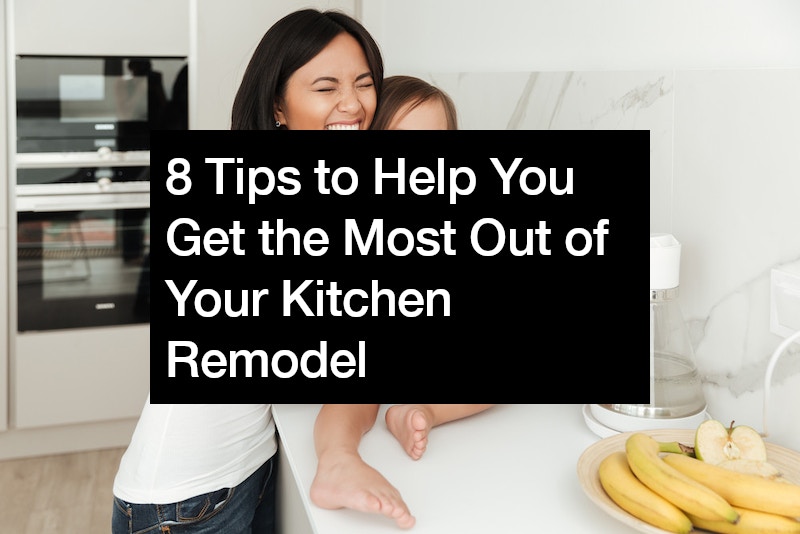 8 Tips to Help You Get the Most Out of Your Kitchen Remodel
Embarking on a kitchen remodel is an exciting endeavor that allows you to transform your culinary space into a functional yet aesthetically pleasing hub. However, to ensure a successful outcome from this investment, it's crucial to approach the project strategically with valuable insights that'll help you make informed decisions throughout the remodeling process. These expert tips will get you started in elevating your kitchen remodel to its full potential.
1. Hire a Remodeling Company
When it comes to a kitchen renovation, unless you're a highly-skilled DIYer, even a minor update calls for the expertise of a kitchen remodeling specialist. Whether your goal is to improve your home's functionality or to boost its resale value, hiring a professional remodeling contractor is a wise investment.
You can hire a general contractor or seek the expertise of a reputable remodeling specialist to ensure you bring your kitchen's design vision to life with the help of high-quality workmanship. From initial design consultations to managing the entire construction process, a reputable remodeling company will handle every aspect of your project, ensuring a smooth remodel.
How do you choose the right specialist to transform your kitchen cost-effectively? It all comes down to their qualifications and the kitchen remodeling services they offer. If you are working with licensed and insured renovators, they are likely to be experienced in adjacent projects, like earthwork and masonry.
A good kitchen remodeling specialist should offer design services to help flesh out your vision for the new space before building it. Hire a kitchen renovator expert who can handle all permits and inspections, navigate building codes, make intelligent decisions on methods and materials, and coordinate a team of professionally skilled craftspeople.
If you require more than a simple remove-and-replace service in your dream kitchen, look for contractors who offer kitchen remodeling servies like architectural or design offers that add convenience.
Finally, review the proposals' documents to ensure your architects, who specialize in planning structural changes, and the designers, who improve your kitchen's functionality and aesthetics, have detailed information on price, payment schedule, scope of work, and site plan.
2. Get Quotes From Plumbers
During a kitchen remodel, replacing leaking, worn or damaged pipes or unattractive fixtures makes sense. However, before starting the renovation project, it's essential to involve the expertise of licensed, reputable plumbers. Obtain quotes from several plumbing contractors for price and services comparison to achieve the most success out of your remodeling investment.
A skilled plumber assists with various tasks, like relocating plumbing lines, installing new fixtures, and ensuring proper connections for your kitchen appliances with the right plumber. You can avoid potentially costly mistakes and ensure your kitchen's plumbing system functions flawlessly.
To create a practical kitchen design, consider the placement of major appliances like the refrigerator, dishwasher, and stove. The process will require consulting with qualified remodeling contractors who can evaluate the existing pipes' layout and advise on optimizing the design for efficiency and functionality.
While consulting your desired plumbers, consider those that note that building codes dictate what changes can be made to your plumbing system for safety and health reasons. If your plumbing is not up to the current code due to living in an older home, your plumber should ensure that all necessary permits are obtained, and all work is up to code.
Whether it's reconfiguring your kitchen's layout or adding new features, a professional plumber should first inspect every component of your existing plumbing system and identify any hidden issues like water damage, energy efficiency issues, mold, or clogs in your kitchen pipes. Quoting on such issues early in the project prevents costly repairs or repiping services.
Finally, consider a licensed plumber who provides valuable advice on energy-efficient plumbing fixtures and appliances with the latest technological innovations to help you save money or increase your home resale value.
3. Don't Forget About Flooring
When remodeling your kitchen, you often focus on the cabinets, countertops, and appliances, but one critical area you may overlook is the flooring. Your kitchen floor sets the desired tone of the upgraded kitchen you are looking for. This aspect should motivate you to seek the services of the best flooring installation company for a perfectly done job guarantee.
Installing upgraded flooring during a kitchen remodel accounts for 7% of the budget. It's done after wall painting, cabinet installation, countertops, and appliances which makes it necessary to choose the type of floor that compliments what already exists in the renovated kitchen. It's where consultation with a reliable, professional flooring company comes in handy.
They help you explore the different floor options that can perfectly tie the entire space together, adding aesthetic appeal and functionality. Such experts advise you accordingly as they explain the pros and cons of floor options like hardwood, tile, vinyl, cork, laminate or eco-friendly materials.
With their advice, you can finally select a flooring solution that suits your style, endures heavy foot traffic, is easy to clean, and makes your kitchen visually stunning. Finally, consider the flooring material's durability, the kitchen remodel budget, and the desired outcome.
4. Replace or Repair Appliances
Stovetops, ovens, dishwashers, and refrigerators are all common kitchen appliances that break or start functioning erratically. During a kitchen remodel, it's an opportune time to assess the condition of your appliances and decide whether you should replace or repair them. When is the right time to repair your kitchen appliances?
Modern appliances are built to serve you for many years. However, servicing them regularly and fixing issues as soon as you notice them increases their service life. For appliances that are under warranty, relatively new, and require inexpensive repairs, consider getting advice from a reliable kitchen appliance repair service.
They will help you make the best decisions to ensure your kitchen is equipped with only top-notch appliances that enhance functionality and aesthetics. However, if your appliances are outdated, inefficient, or no longer meet your needs, replacing them with modern, energy-efficient models during the kitchen remodel process is best.
It might seem expensive, but it saves you a lot of stress from constant repairs. If your appliances are beyond the warranty period, near the end of their lifespan, and performing inconsistently despite constant repairs, it's time to upgrade your kitchen with new models.
Call a trustworthy appliance repair technician to assess the unit if you're unsure whether to replace or repair it. If they are from a credible company, they should give an opinion that is safe and favors you. For instance, they shouldn't recommend replacing an appliance that needs simple repairs.
Remember, replacing rather than repairing costs might be higher. Hence add it to your kitchen remodel budget. Therefore, you must get a reputable company that can also estimate the new appliances' amount.
Finally, investing in high-quality, energy-efficient modern kitchen appliance replacements is best rather than frequently repairing outdated appliances. Why? This gives you a good ROI while still covering you with long-time warranties and cuts down the repair costs the next time you do a kitchen remodel.
5. Update Cabinets
Your kitchen remodel can't be complete without an update on the cabinets, the focal point in any kitchen. Cabinet designs get outdated with time hence the need for modern cabinets during your kitchen's renovation. Whether you refinish, reface, or replace your cabinets entirely, consider modern designs that maximize storage and reflect your style.
What is the best way to update your kitchen cabinets without replacing them? Consider swapping old doors, drawers, and handles with trendy modern ones. You can repaint or stain your cabinets using chalk paint, wax, or lacquer to give them a fresh look.
However, if you are not a paint expert, consult a professional interior designer to advise which color brightens your kitchen and compliment other items such as the wall and countertops. Another budget-friendly way to upgrade your kitchen cabinets is by refacing them by adding moldings to the flat-fronted cabinets.
Consider the materials used, wood or MDF, is neatly cut, applied consistently, and attached firmly with adhesive for an entirely new kitchen remodel. Creating task lighting for countertops and ambient illumination in the kitchen by installing under cabinet lights can bring your budget-friendly kitchen remodel to a new level.
For instance, color-changing smart LED strip lighting creates a visually appealing and highly functional cabinet storage solution that meets your needs. From harnessing the power of mix-and-match painting to replacing outdated doors, these tricks will help add style and functionality to your kitchen cabinets for a fraction of new cabinet installation during your kitchen remodel.
6. Install New Lighting
Proper lighting can dramatically enhance the ambiance and functionality of your kitchen. A trendy kitchen lighting remodel upgrades your home's overall value and comfort. During a kitchen remodel, take the opportunity to install new lighting fixtures that provide ample task lighting, accentuate architectural features, and create a warm and inviting atmosphere.
You will love the benefits of new lighting in your kitchen, like smart control, because modern lighting offers endless style options. Recessed or pot lighting installation gives your kitchen elegance and modern light fixtures from the ceiling of your kitchen.
They are easily installed during the renovation because your electrician will have to open the ceiling carefully without disturbing the entire insulation of your property. For fire safety concerns, check with your electrician to pick out those that have IC fixtures. You should also consider chandeliers and ceiling fans for overhead lighting.
A beautiful chandelier makes a great visual impact, but you should seek the help of an expert. Remember, installing a new ceiling fan might require a permit or inspection for safety purposes. Once you are confident you have the best lighting fixtures, consider cost-effective bulb options like LED for energy-saving reasons. Finally, collaborating with a professional lighting electrician will ensure your kitchen is beautifully illuminated, allowing you to work efficiently and enjoy the upgraded space to its fullest potential.
7. Replace Windows
During a kitchen remodel, don't forget the brightest spot, the windows. Not only do they fill your kitchen with natural light, but they also add architectural interest to your home. You should therefore get creative when remodeling your kitchen Windows. If your windows are outdated, drafty, or lack proper insulation, consider replacing them with energy-efficient models.
Consulting with a reputable window replacement company will help you choose windows that not only enhance the visual appeal of your kitchen but also provide better insulation, natural light, and noise reduction. When replacing your kitchen windows, open up the initial cabinet-filled space and opt for larger windows that will be the focal point of your upgraded kitchen.
Additionally, you can frame the windows with cabinets that reach the ceiling to add visual interest and pull anyone's eyes toward the natural light. Large windows give a better view of your kitchen and make your kitchen duties seem less daunting in a bigger space.
If your kitchen has ample natural light, consider replacing the exterior wall with a wrap-around window design, like the floor-to-ceiling designs. The display will infuse your kitchen remodel with a refreshing ambiance.
Although you'll need to be resourceful with other storage solutions due to less cabinet space, you can leverage this with various mix-and-matching cabinet colors. With abundant light from the new windows, your kitchen's darker cabinets can be elegantly balanced. However, to get the most out of this kitchen remodel, consider a reputable replacement window service that will advise you on what window replacement will work best for your kitchen design.
8. Invest In Marble Countertops
Like cabinets, a beautiful countertop defines a needed kitchen. Most people use natural materials for their kitchen counters because of their beauty, warmth, and texture. To stand out, consider going for a marble or granite look that will give your kitchen a luxurious look.
Choosing marble countertops in your kitchen remodel brightens up your kitchen design. Although marble is expensive, investing in quality marble kitchen worktops keeps your budget intact in the long run, and you end up with a beautiful finish.
In conclusion, following these eight tips will equip you with the best insights to confidently navigate your kitchen remodel to create a space that combines style, functionality, and efficiency. Suppose you wonder whether you need to hire professionals, what key elements to update, or whether to incorporate modern designs. In that case, each of these tips contributes to maximizing the potential of your kitchen remodel. Get ready to transform your kitchen into a space you'll love.