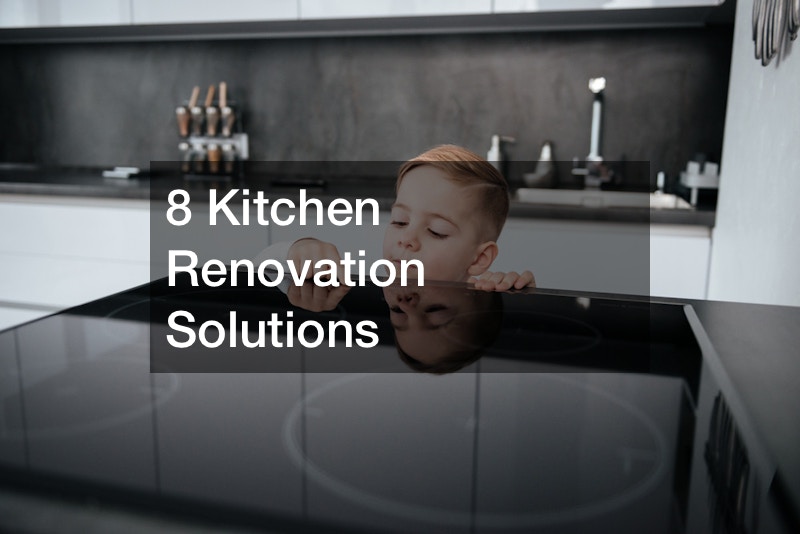 8 Kitchen Renovation Solutions
Gone are the days when kitchens were just about cooking. Today, kitchens are often the most important room in the house, where families spend quality time together. Homeowners are seeking kitchen renovation solutions, keen to create a more efficient and functional space for cooking and ultimately add value and charm to their homes.
The kitchen improvement and additions segment will likely hold the highest market share through 2027 due to the prominence homeowners place on their kitchens. According to Global Markets Insights (GMI), the U.S. home remodeling market was worth over $340 billion in 2020. It's anticipated to remain a major contributor to the growth of the home improvement industry.
In general, it's essential to upgrade your kitchen to suit your needs and take the necessary steps to improve efficiency and functionality. From freshening up your kitchen cabinetry, upgrading appliances, or improving energy efficiency, this article will introduce you to different renovation solutions, the services you'll need to get the job done right, and what to expect in terms of potential gains.
1. Refreshing Colors and Finishes
When it comes to kitchen renovation solutions, attention to detail is paramount. Refreshing existing elements with innovative colors and finishes can completely transform your space. When selecting your kitchen's paint color, opt for a hue that adds warmth, personality, and style to this vital space. Additionally, selecting a paint that is easy to maintain is crucial if you want the kitchen to look fresh for years. Depending on the amount of work needed, you could take on the task yourself or hire professional painters to tackle the job.
For cabinets and countertops, kitchen renovation solutions can include changing colors or coating existing materials. Adding a new coat of paint or sealant is a cost-effective and quick solution and can dramatically change the look and feel of your kitchen.
2. Updating Counters and Backsplashes
Updating counters and backsplashes is an excellent way to give any kitchen a new look, from a completely modern to a classic, traditional touch. When updating counters and backsplashes, you have several different options:
Replace your old counters with brand-new ones or refinish your existing countertops to add a beautiful and long-lasting finish.
With backsplashes, you may go with classic ceramic tiles or switch them up with modern ceramic subway or glass tiles. There are so many colors, shapes, sizes, and varieties of tiles that you can choose from to fit your specific kitchen style.
Another great option for updating counters and backsplashes is to use natural stone products, such as granite, marble, quartz, and soapstone. These materials can add a unique look to your kitchen and have the benefit of being incredibly durable. With high-quality materials and the right style, you can quickly and stylishly transform your kitchen into something you can be proud of.
3. Installing New Flooring
If you want to give your kitchen a fresh look, renovation solutions like installing new flooring are the way to go. Updating your kitchen's floor can instantly make it look more modern and fresh. There are several factors you should consider when installing flooring in a kitchen:
Durability: Consider investing in a more durable material since the kitchen experiences high traffic. The flooring should also have the ability to withstand regular dirt, spills, and wear and tear.
Style: The look of your flooring should complement the overall aesthetic of your kitchen. From modern to rustic, there are many styles and colors available.
Maintenance: Think about how much time you are willing to dedicate to upkeep since the kitchen environment is prone to a lot of mess. Thankfully, many flooring materials are easy to clean and maintain, making them ideal for kitchen use.
Cost: Your overall budget for the project will determine how much you can spend on the flooring installation. According to Forbes Home, the average cost of a flooring project is $6 per square foot.
Whether you're looking for a vinyl, laminate, tile, or hardwood floor, ensure you opt for quality flooring services to install the new flooring. Quality installation services will ensure the flooring is done correctly by professionals.
4. Improving Storage Solutions
Any renovation project must create an attractive, organized, and efficient kitchen. Improving kitchen storage is key to making the most of your renovation solutions. One of the best kitchen renovation solutions is to add cabinet organizers, such as roll-out drawers and pull-out shelves. This not only improves accessibility and usability but also gives your kitchen a clean and polished look.
Consider adding a kitchen island to your renovation checklist if you need more counter space. Islands act as a great way to add additional countertop space, as well as additional storage. Built-in drawers and cabinets can provide plenty of storage for everything from pots and pans to utensils, cutting boards, and more.
For smaller items, spice racks, and wall-mounted utensil holders are excellent ways to keep things neat and organized. Not only do these solutions help keep counters and shelves clutter-free, but they also add character and charm to your kitchen. Finally, if you're looking for a more permanent solution to kitchen storage problems, consider investing in built-in cabinetry. Built-in shelving, cabinets, and pantries not only make it easy to store items and food, but they can also add a lot of character and class to any kitchen space.
5. Upgrading Appliances
Upgrading your kitchen appliances is a great way to achieve a more modern look and feel and increase energy efficiency. When updating your kitchen, consider which appliances you need to replace first.
Refrigeration is an important element in any kitchen, so it's essential to have a reliable and efficient unit installed. In fact, refrigerators are the most common kitchen appliance in the U.S. According to the U.S. Energy Information Administration (EIA), nearly 100% of American households have refrigerators. You should not take refrigerator selection and maintenance lightly; otherwise, you may find yourself replacing the unit in a few years. Therefore, hiring professional refrigeration services is important to ensure your refrigerator is properly installed and maintained.
In addition to refrigeration, you should update other kitchen appliances to help complete the look and feel of a remodeled kitchen. For example, you can upgrade ovens, microwaves, and dishwashers to a more efficient and aesthetically pleasing model.
Remember that when replacing appliances, you may need to update the cabinets, plumbing fixtures, drawers, and countertops for a cohesive look. Upgrading appliances is a great start to revamping your kitchen. Plus, your energy efficiency will improve with new kitchen appliances, and you'll enjoy the financial benefits (lower bills) of a modern kitchen in no time.
6. Upgrading Lighting and Electrical Fixtures
Kitchen renovation solutions can give you the space you've always wanted, and upgrading lighting and electrical fixtures can transform the look of your kitchen in no time. You should know your options to pick the perfect lighting for your kitchen. Generally, kitchen lighting falls into three categories – ambient, accent, and task lighting.
Ambient lighting helps create a room's overall atmosphere. Common ambient lighting options include chandeliers, pendants, recessed fixtures, track lighting, or wall sconces.
Accent lighting allows you to shine a light on particular elements and subtly draw attention to the beauty of your kitchen. Popular accent lighting selections may include under-cabinet lights, wall sconces, or valance lights.
Lastly, you need task lighting to illuminate your kitchen counters when cooking. You can achieve task lighting using recessed lighting, LED strips, lamps, and LED puck lights.
Upgrading your kitchen lighting offers many benefits:
Choosing more energy-efficient models can significantly reduce your energy bills and carbon footprint.
Going for more powerful lighting means you won't have to crowd your countertops with bulky lighting fixtures.
Sufficient light in the kitchen makes it easier to decipher ingredients, work, and be creative.
When upgrading lighting and electrical fixtures, always entrust the job to licensed residential electricians. An experienced professional will ensure that the lights are installed properly, follow safety regulations and codes, and can suggest various types of lighting to meet your needs and budget.
7. Expanding Outside Kitchen Space
When it comes to kitchen renovation solutions, expanding outside kitchen space can bring a wealth of new design opportunities. Lately, outdoor kitchens have become a highly sought-after addition and can allow you to extend your home's entertainment and dining options. Taking advantage of your patio or deck, or extending out onto your lawn, is a great way to expand the look and feel of your kitchen.
Outdoor kitchens often employ natural materials like stone, which are low-maintenance and durable, providing space for barbecues, islands, and other handy countertops that can offer additional seating and prep space. This is also a great way to comingle the exterior of your home with the interior design and create a fully integrated feel. Your outdoor space can be a great way to enhance your home with features such as:
A unique deck for outdoor dining.
A pizza oven for fresh-baked pies.
A fire table for hot nights, delicious marshmallows, and more!
Having an outdoor kitchen gives you the perfect opportunity to host dinner parties and larger gatherings. With a few well-placed poles, it's easy to hang lights around your outdoor space and create a dramatic look after dark. You can even host a backyard cinema experience for your guests by setting up a large screen and projector.
With imagination and the right tools, you can transform your outside area into an attractive space. Be it an open-air veranda, a multi-purpose bar, or just a cozy patio with some comfy chairs, you can turn your outdoor area into an exciting extra kitchen space for more than just grilling and entertaining.
8. Remodeling for Energy Efficiency
Updating your kitchen can be more than just a cosmetic change: by focusing on energy-efficient features during the remodeling process, you can take meaningful strides toward greener living. Furthermore, renovating your kitchen for energy efficiency increases your home value. A recent National Association of Home Builders (NAHB) survey found that 84% of prospective homebuyers said they would pay more for a home with energy-efficient features.
A great way to improve the energy efficiency of your kitchen is to take advantage of modern appliances. When selecting appliances for your kitchen renovation, consider an Energy Star-certified option. These products are designed to be energy-efficient and cost-effective over time.
If you want to make an even bigger impact on your energy efficiency, the windows are an area to consider. Windows are notorious culprits in energy loss, so be sure to invest in energy-efficient windows and window treatments. Many window contractors specialize in installing energy-efficient windows, some of which are even certified by the government.
Finally, be sure to invest in energy-efficient lighting systems. Energy-efficient lighting has become increasingly popular in recent years and is available in various shapes, sizes, and colors. A popular choice for kitchen lighting is LED lights, which are both decorative and efficient.
Whether you want to make big changes or small ones, consulting with a kitchen remodeling contractor can save you time and money in the long run. With the right renovation solutions and smart upgrades, you can ensure your kitchen is more efficient without sacrificing style and comfort.
Bottom Line
Kitchen renovations can be an excellent way for homeowners to add value and functionality to their properties. From simple renovation solutions like fresh paint, replacing cabinets, and modernizing appliances, to a more comprehensive approach such as a full layout makeover, a kitchen renovation can provide you with a brand new, stylish look and feel to your home.
It is equally essential to pay attention to other parts of the home, such as landscaping, roofing, and bathroom remodeling, which can also have an equally profound effect on the overall appearance of your home. It is imperative that you invest in professional services to ensure the renovations are done correctly and efficiently while also allowing you to reap the benefits of a higher home value and improved aesthetics. Ultimately, with the right amount of planning, you can transform any kitchen into a unique, stylish, and functional space you will love.