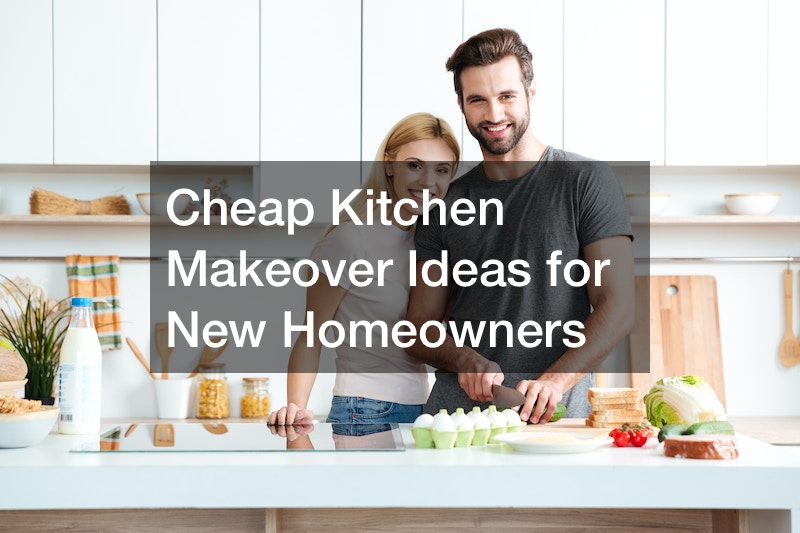 Cheap Kitchen Makeover Ideas for New Homeowners
Remodeling the kitchen on a budget is a typical project in homes, especially newly acquired ones. With creativity and inexpensive resources, you can upgrade your kitchen without worrying about ridiculous local remodeling quotes. Determining your budget before beginning the makeover process is essential. It helps you decide what to prioritize and gives you a rough idea of the total kitchen services. If you're going for a formal kitchen layout, consider making changes, such as opening up the space, repositioning your appliances, and arranging them in a classic design.
Additionally, upgrading your kitchen cabinets can be a game changer. If your budget allows it, contact a custom cabinet company and give them a design that suits your kitchen best. Are you going for a dramatic kitchen? That would be ideal, because no one likes a dull space.
You can add artwork, rugs or plants to make it more inviting and personal. It is important to choose durable and functional materials and also aesthetically pleasing. Plan the renovation process carefully, and consult a professional for advice and guidance.
One of the most common projects in historical and rural homes is remodeling the kitchen on a budget. These projects are also quite popular in newly built homes. In reality, the NKBA data reveals that upwards of 10.2 million kitchens are renovated by homeowners annually, or almost one in every ten families.
According to research presented at KBIS, the association's annual show, nearly half (48%) of kitchen remodel and replacement projects had budgets of $15,000 or more, while one in five Americans (21%) spent $7,500 or more remodeling their main bathroom.
If you don't keep an eye on the budget, kitchen renovations might easily cost more than other rooms in the house. Nevertheless, many clever, cheap kitchen makeover ideas can give you a lovely kitchen renovation without costing thousands of dollars. Read on to discover more.
With a bit of creativity, inexpensive resources, and your choice of many cheap kitchen makeover ideas, you can do a lot. You can update your new house without breaking the bank. Use the following upcycling and ingenious cheap kitchen makeover ideas to renovate your kitchen.
1. Get Professional Help
A professional may handle almost every aspect of a significant kitchen redesign, from granite countertops to custom kitchen cabinets to project management. Your duty is to locate the ideal specialists to carry out your cheap kitchen makeover ideas using your friends, coworkers, and good old-fashioned studies. Visit big-box retailers and showrooms as a fantastic place to start, see various materials, and pick up some recommendations along the way.
Once you determine the budget, layout, and overall design, you should contact a professional contractor if you haven't already. The rule of thumb is obtaining at least three distinct estimates, including completion schedules. Walkthrough every part of the kitchen remodel with each potential contractor to see whether you need to increase or decrease your budget.
When hiring kitchen remodeling services, you should be cautious about accepting the lowest bid, whether aiming for a low-cost DIY kitchen remodel or even luxury home additions. Low estimates may indicate that a contractor is in a rush for work or intends to use subpar materials.
Create a contract that specifies the work's scope and defines a payment plan once you've decided on a contractor to help with your kitchen remodeling project. A typical payment schedule gives 10 percent upfront, 25% spaced out throughout the project in three stages, and the final 15 percent upon completion, according to Budget Dumpster. Before signing an agreement, list the requirements for choosing a contractor and ask all your questions.
2. Start With the Countertops
The impact of new countertops on kitchen design may surprise you. Countertop installation is more challenging than it appears. The professionals installing your ceramic tile floor are generally most suited to installing your ceramic tile worktops.
Synthetic materials like Silestone, Formica, or Corian are tricky even to purchase for DIYers, so you might not have the option of DIY installation if you use them. Therefore, authorized fabricators associated with manufacturers must create and install these solid-surface materials. Since custom granite countertops, marble, and artificial quartz kitchen countertops are so heavy, the best alternative is to have the manufacturer make them to your specifications and do the installation.
A successful installation depends on base cabinets that are precisely level and firmly fastened, since you must install countertops flat and level.
3. Consider the Room
The initial space planning and schematic design process are the most crucial stage of any kitchen remodeling. Even if a kitchen is outfitted with stunning materials and finishes, it will only be a great design if the space and layout are efficient. A solid space arrangement and flow are crucial in kitchens more than any other room. This is obvious to anyone who has attempted to operate in a poorly constructed kitchen.
Most clients begin by compiling a wish list and an inspiration gallery. This is a fantastic starting point, but try to concentrate on the space ideas before getting too caught up with how the kitchen will appear.
Space designs are about the optimum layout, but they can be rough. You or your designer should experiment with a few appliance placement possibilities. What design suits your room the best? A kitchen with an island in an L shape? A kitchen with a U shape? Or is your kitchen a galley?
Have you got room for a kitchen with a dining area? Will you alter windows or move doors? These blueprints can specify the location of your pots, pans, and silverware, the color of your cabinets, or custom framing kits.
4. Get Your Plumbing Fixed Up
While replacing kitchen plumbing isn't always necessary, it could be the best choice in some circumstances. Is upgrading your plumbing and hiring drain cleaning services beneficial?
The plumbing services are one kitchen design element that can significantly affect how well it functions. It could be time to get rid of old fixtures or faulty pipes. Uncertain about the elements you want to add to your renovated kitchen? Take a cue from us and incorporate a few of these improvements into your new kitchen.
Touchless Faucets: When your hands are full or coated in dough, turning on the kitchen faucet might be difficult. Touchless faucets let you maintain pristine handles by turning them on when they detect motion.
Butler's Pantries: A butler's pantry is an excellent addition to your kitchen, whether you entertain frequently or simply need more room for meal preparation and cleanup. You must prepare new plumbing lines for the pantry if it has a bar sink, dishwasher, or refrigerator.
Beverage Stations: Popularized by bloggers and Instagram users, beverage stations organize tea and coffee supplies in one spot. Cleaning up is made much simpler by installing a sink and a coffee machine connected to a water line.
Island Sinks: If one sink is nice, there's a fair chance that two will be better. The optimum location for your second sink is on your island, especially if you have multiple cooks working at once.
Pot fillers: Hate carrying a big, heavy pot of water to the stove? When remodeling your kitchen, include a pot filler. These faucets are placed on the wall above your range to make filling pots quick and easy.
Systems for purifying water: Your water is clean and tastes better thanks to a water filtering system. You can mount the equipment inside the wall or beneath the counter.
Your overall remodeling costs will likely go up if you include new plumbing, yet updated plumbing and fixtures are frequently crucial renovation components.
5. Consider Unique Alternatives
Here are some cheap kitchen makeover ideas to consider when redesigning your kitchen, whether you need some quick and easy updates or just some inspiration for what you can do in your area with little cash. You only require a little time, effort, and creativity to spruce up the center of your home.
Set A Moodier Tone
Consider setting a moodier tone in your kitchen with appealing and unexpected colors to provide a more rich and nuanced appearance rather than dazzling optic white.
From earthier terracotta or even more colorful tones to 2019's dark and dramatic green tinted color of the year, the night watch, please think about adding a sense of enhanced energy with colors that create emotion and a positive mood.
Matte Everywhere
Who doesn't adore matte finishes' silky feel? Fortunately for you, we've seen showrooms packed with matte appliances and cabinetry that, while gorgeous, are also far easier to keep clean and are unavoidably timeless because of their attractiveness.
Go Dark
Black and moodier-hued cheap kitchen makeover ideas are an attractive alternative to traditional ivories and the antithesis of the trend toward all-white indoor and outdoor kitchens. They are also easy to handle and work well with any home.
Switch to Open Shelves
In a kitchen, open shelving can seem quite chic. Add clever kitchen storage ideas to a plain wall to add extra storage to display your favorite cookbooks or crockery collection.
You could take the door off one of your cabinets to make open shelves instead of investing money. If you need help organizing your kitchen shelves, remember there is no place for the mess to hide without a cabinet door.
Attach Baskets to the Wall
Hang a collection of wire baskets from their bases on the wall to prevent clutter from building up on your kitchen surfaces. Use baskets to store utensils close at hand or to showcase cookbooks, spice jars, and condiments.
You can create symmetry by hanging two, four, or six cabinets in twos, fours, or sixes with your kitchen shelving ideas. Spray painting your baskets in a neon color will give your decor a pop of color while making a fashion statement.
Incorporate a Wooden Backsplash
Using stained wood as a splashback is a terrific way to spruce up your kitchen while staying within a tight budget. Your space will gain interest and texture, and you might even be able to repurpose leftover wood from earlier projects. A simple Ikea open shelf organizes your necessities in a rustic-style display. Choose a neutral color scheme to create a tranquil atmosphere. It will also go well with products from your pantry.
Make Custom Herb Holders
There are excellent budget indoor and outdoor kitchen ideas if you enjoy cooking delicious meals from scratch. Make a loop of cable ties around the neck of a glass jar, leaving space for them to pass over a cup hook put into a piece of wood, such as a floorboard. For drainage, place gravel in the bottom two-thirds of the jar. Then, top with soil and your preferred herbs. With a chalkboard marker, label each herb jar on the side. Water your herbs frequently.
Repurpose Bed Slats as a Source of Storage
A wall rack is a set of bed slats that have been webbing mounted and suspended from a few wall hooks. It is an economical solution to create more storage, preventing old bed slats from going in the trash. Leftover plywood cut into little pieces can also work if you don't have spare bed slats. Just add S-hooks to hang accessories. This is excellent for small kitchen designs with limited storage.
Replace the Cabinet Doors
You can alter the doors and drawer fronts if painting the room is insufficient to update the appearance. We're talking about employing cheap kitchen makeover ideas to transform your home rather than spending a fortune on a brand-new fitted kitchen that might need remortgaging your home. Brands like Superfronts produce fashionable cabinet and drawer fronts with IKEA furniture. You may design your own custom look for as low as £50.
To create a design plan with contrasting features, experiment with combining patterned and plain doors. If you have a kitchen island, choose a front with a striking pattern to make it stand out from the other furniture in the space.
Shop In-Person
If you are considering a kitchen remodel in your home, you need a place to gather cheap kitchen makeover ideas. You must be aware of your options, the products you should consider, and the fashion-forward trends and styles that merit your consideration. Visits to showrooms are among the greatest ways to obtain this information.
It's imperative to visit a design showroom for the reasons listed below.
It's the ideal chance to view the items to use in your new kitchen.
The experience and preparation will be more fruitful.
It will paint a clear picture of how your kitchen will appear.
You can choose all the required materials with the assistance of the experts at a showroom.
Ensuring the design matches your personality and sense of style is crucial. An excellent method to guarantee that you'll be pleased with the outcome is to enlist the aid of a designer when selecting the materials.
You can remodel the kitchen to accomplish much more than just preparing meals because it's a place for socializing and celebrations.
We hope the above cheap kitchen makeover ideas inspire you to come up with amazing design concepts for your kitchen renovation and make you enjoy your new kitchen more.